Dumplings: pierogi (pye-roh-gee) Polish traditional dumplings are white, larger than ravioli, and filled with anything you can imagine. Pierogi may be both spicy - filled with spinach, mushroom, and lentils – as well as sweet, especially popular as summer desserts.
Kopytka are hoof-shaped dumplings similar to Italian gnocchi but made with potatoes; placki ziemniaczane are potato pancakes served with sour cream and smoked salmon or just sugar;
Krokiet-croquette are filled with meat or sauerkraut and mushrooms;
Gołąbki are cabbage rolls stuffed with pork and rice served in a tomato sauce;
(kotlet) schabowy are breaded pork cutlets;
Czerwony barszcz is a refreshing beetroot soup with vegetables and sour cream or served clear with 'uszka' ('small ears' dumplings, just like tortellini);
żurek -sour rye soup is mostly served with pork sausage (eg. white-raw) and hard-boiled egg;
flaki (or flaczki) is a thick meat soup with sliced strips of beef stomach as the main ingredient, traditionally served at wedding receptions, enjoyed even by polish kings;
bigos is a sauerkraut stew with chunks of various meats and sausages, extremely traditional;
kiełbasa is a Polish sausage and a staple of Polish cuisine, coming in dozens of varieties, smoked or fresh, made with pork, beef, turkey, lamb, veal with every region having its own specialty;
kapusta zasmażana is sauerkraut pan-fried with fried onions, cooked pork, whole pepper, and rich spices, and makes for a truly hearty side dish;
mizeria is a traditional Polish salad made from cucumbers in sour cream with dill;
ogórek kiszony is a Polish pickled cucumber, very good with vodka and/or bread with lard;
surówka z marchewki is a Polish carrot salad made with carrots, peeled apple and lemon juice;
smalec is lard, partially double fried with onion, marjoram and sometimes with apple or prune. It is spread over bread and served together with pickled cucumbers as an appetizer before the main meal;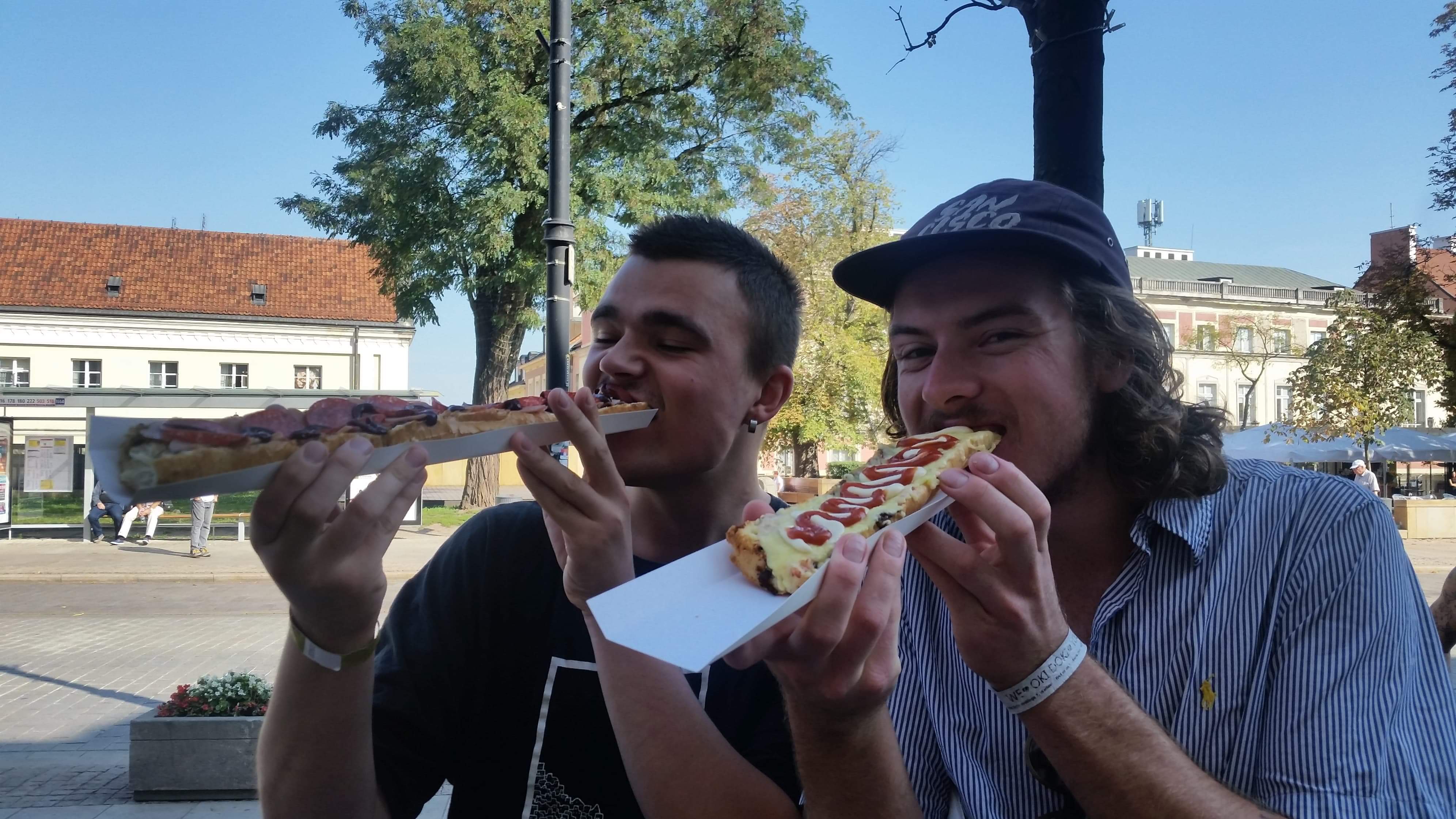 zapiekanka is a pizza sandwich made of half baguette with cheese, white button mushrooms, and ketchup, and is a very popular street food;
kompot is an old-school dinner drink made from fresh cooked fruits;
piernik is a soft gingerbread either iced or filled with marmalade of different fruit flavours, and sometimes covered with chocolate;
sernik is a Polish cheesecake made primarily of 'twaróg', a type of fresh cheese, eggs, vanilla, raisins and orange peel, served cold, and is one of the most popular desserts;
makowiec is a sweet poppy seed pastry roll with a dense, rich, filling of poppy seeds;
pączek are golden brown closed doughnut filled pastries traditional to Polish cuisine, filled with rose petal jam or other fruit conserves. Saying 'to look like a pączek in butter,' means to look very attractive and luxurious;
rurka z kremem is a wafer tube filled with whipped cream;
kremówka is a Polish type of cream pie made of two layers of puff pastry, filled with cream, usually sprinkled with powdered sugar, and also known as 'Napoleonka' (French 'Millefeuille');
WuZetka is a cocoa cake saturated with rum or punch, layered with whipped cream, jam and covered in chocolate sauce;
Zygmuntówka is an almond-flavoured bun cake filled with chocolate mousse, cranberry jam and whipped cream, topped with a meringue in the shape of a crown;
gofry are waffles eaten them mostly with either powdered sugar, fruits, whipped cream, or any combination of these;
faworki are light crispy pastry twisters fried in deep fat, and covered with powdered sugar
SWEETS FROM A STORE - GOOD FOR SOUVENIRS
Ptasie mleczko is a soft chocolate-covered candy filled with soft 'Meringue' (or milk soufflé);
Krówki is Polish fudge, or semi-soft milk toffee candies;
Mieszanka Wedlowska are assorted chocolate covered candies;
Torcik Wedlowski is a circular, chocolate covered wafer with hand-made decorations;
Prince Polo is a Polish mass-produced chocolate bar;
Pawełek is a chocolate bar with a flavoured filling that contains a small amount of alcohol;
Śliwka w czekoladzie is a chocolate-covered plum;
Sękacz is a traditional cake;
Kisiel is a clear, jelly-like sweet fruit liquid, red currant is popular one.
Vodka- Orzechowa is hazelnut flavoured and best served with a bit of milk,
Żubrówka is Bison Vodka with a blade of grass inside the bottle, best served with a bit of apple juice and known as "apple pie."
VEGAN CITY
Polish cuisine is definitely something that tourists enjoy while visiting the capital of Poland. Dumplings, sausages, żurek is a must…the traditional cuisine has a lot to offer to meat eaters and vegetarians. What about vegans? Do not worry. According to happycow.com Warsaw is the 3rd most vegan friendly city in the world. Around 40 vegan (!) restaurants in Warsaw is impressive. You do not have to worry about the variety either.
You can explore middle east at Mango Vegan Street Food, Bejrut, Vegan na Moliera or Tel Aviv where you can try not only delicious falafels, but choose between shakshuka and other delicacies.
In mood for some Asian cuisine? Search no more, visit one od totally vegan sushi places Youmiko or Edamame, where you can get much more than rolls with cucumbers or avocadoes. Want to try some fake meat Asian meals? Visit Loving Hut, where you will definitely fall in love with the soups (try the Thai!). You can also visit the other side of the river and eat a delicious, thick vegan ramen in Vegan Ramen Shop (tiny place with huge potential!).
Cucina Italiana? Then your choice is Leonardo Verde with their fantastic pizzas and lasagnas. Not in the move to get out of the hostel? Just order one at Night Pizza Factory.
Not sure what to eat? Try some fusion cuisine places such as Vegemama (inspired by Asia) or Vegelabb (Budda Bowls inspired by various cultures) or Vege Miasto close to the Old Town with their delicious lunches and desserts. If you have a sweet tooth don't hesitate to go to Lokal dela Krem (they have ice cream!). Here and in Physalis you have a chance to try best cakes, cookies and other tasty sweetmeats.
Don't miss out Krowarzywa – first vegan burger place in Warsaw. They also offer vegan kebabs and hot dogs. Who said that vegan food must be healthy?
After your senses travelled around the whole world, relax and enjoy Polish food. In Lokal Vegan Bistro you have a chance to eat "schabowy" (cutlet) just like grandma used to make, with potatoes and seasonal salad. They also have famous zapiekanka in vegan version. In Vege Bistro try vegan "kaszanka" (blood sausage). My friends say it really tastes similar to the real one. From the main courses you can choose between pierogies, cutlets and fried "duck" or my favourite Hungarian potato cake with stew and cream.
Of course to put Warsaw on the 3rd place the list doesn't end here. Although those places are loved also by meat eaters, if you go to a regular restaurant, you shouldn't have any trouble as the knowledge in Polish gastronomy is growing very fast and more and more restaurants offer vegan and vegetarian options.
BON APPETIT!