12 Christmas dishes
In a few hours polish families will sit together to celebrate one of the most important holidays. Although this meal is reserved for the close family, it's customary to set an extra plate and seat for an unexpected guest. Most of the dishes served are cooked specifically for this special day – and only once a year! (which is not a disadvantage, because Christmas Eve dishes are not really light).
Christmas Eve dinner, also known as Wigilia, starts when the first star appears in the sky. Nothing is to be eaten until all members of the family have broken the Christmas wafers (opłatek) together and exchanged wishes for good health and prosperity. During the meal, all of the guests should taste a bit of every dish!
The supper, which traditionally includes 12 dishes and desserts, may last for a good couple of hours (it's good for your stomach to eat slowly, especially SUCH amounts of goodies). 
Here are 6most common meals that we eat on Christmas: 
1. Christmas Eve red barszcz with uszka
Any novice willing to try  to explore different sides of  fulfillment will need to try out this dish. This iconic soup has been widely presented through any possible media but its not just a mundane dish.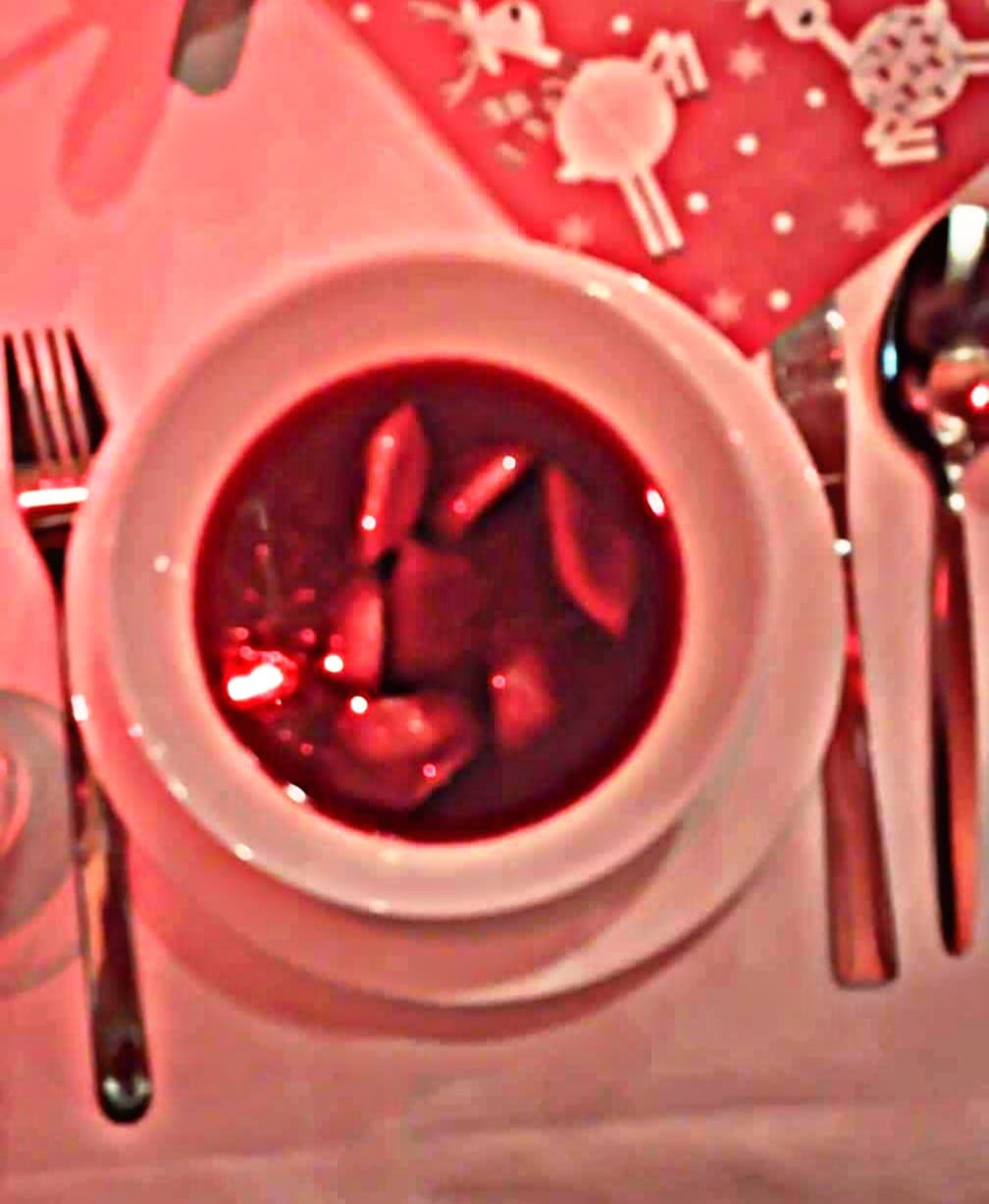 The dimensions of experiences it can induce is just tremendous potential of enjoyment in your culinary life. The tender aftertaste will definitely dominate your taste buds but you can still become the master of that soup exploring many variations of composing beets altogether with some kinks coming from either spiciness or sourness the right combination depends just on you .
The Christmas version varies from the usual one as it requires a sour base (zakwas) which needs to be prepared a few days in advance. It consists of raw beets, peeled and cut into slices, fermented over even a whole week in pre-boiled and chilled water with garlic.
Barszcz is usually served with tiny dumplings called uszka, meaning 'little ears'.
2. Christmas Eve mushroom soup (grzybowa)
This soup, also often served during  Christmas Eve dinner, and is made from dried forest mushrooms (the best ones are ceps). The use of dried mushrooms is very common in Polish cuisine. This particular soup can turn out to be quite tricky for some as the umami coming from all the dried mushrooms  can be suffocating and overwhelming so you don't have much choice except for consensual submission and simply enjoying the ride.
3. Christmas Eve Carp
One of the most prominent fishes around Europe as it was the first one to be incorporated into the agriculture it often symbolizes the hardwork of farmers and the crops of water in the idea of blessing the next year by composing the dinner from ingredients from four sources( Water , orchard, garden , forest) the dish itself is often kept really simple therefore it's just your obligation to make the most of it its not just about pleasing yourself but the dish as well.
4. Christmas Eve Pierogi

A literal trademark of polish cuisine and embodiment of everything you want to try in your new path of experience. The most versatile of all dishes which has made its way onto  tables of all poles usually served with cabbage and mushroom filling . The dough is made from plain flour, egg, salt and water. The filling usually depends on the season and the occassion it is for usually after being boiled they are served refried and sprinkled with different kinds of toppings if you know what I mean.
5. Christmas Eve Braised saurkraut - bigos.
Made of fermented cabbage cooked for hours with mushrooms  and spices. Sometimes with addition of  raisins or plums. This delicious dish  adds a really inherent contrast to heavy dishes enriching overall experience.
6. Dried fruit compote – kompot z suszu
Poles love dried and smoked fruits and use them especially in Christmas dishes. Compote, served at the end of Christmas Eve, is made from cooked dried and smoked fruits – typically plums, apples, pears, raisins and apricots. Its most appreciated purpose is to speed up digestion.
Can you think of any other Polish traditionad meals?
What are the dishes you traditionally eat at home?